Quest Software has a webcast series, Ask Toad, created specifically for Toad® for Oracle users. Our goal is to help you get the most out of your Toad investment and help you excel at your job—so you can develop code faster, with less risk, more automation and collaboration.
The sessions are short and to the point. Each session highlights a specific, valuable Toad capability.
Please join us at your convenience and take a brief break from your day to attend a 30-minute (or less) session—you'll return refreshed and with a little more knowledge to tackle the day's challenges.
Register online to watch 1 or all now, or click on each link below to read more about each Ask Toad session.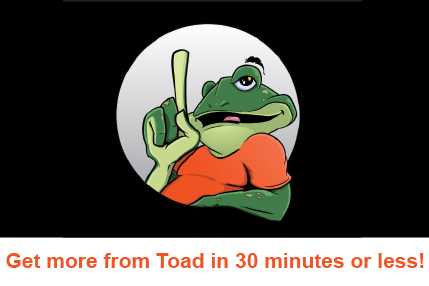 Toad for Oracle product download links
Whether you're new to Toad and would like a free 30-day trial, or already in a trial and are ready to buy, or a loyal fan of Toad for Oracle and ready to renew your Toad license, click on the links below to activate Toad for Oracle so you can realize the benefits of more time, greater accuracy and an easier work day.
Toad for Oracle Free 30-day trial.
Are you already in a trial? Talk to sales or buy now online.
Already a Toad for Oracle customer? Renew now.
Share the Ask Toad webcast series
If you think your colleagues would benefit from the Ask Toad webcast series, share it now on social media with the links located at the top of this blog post. Thanks!