A power user accidentally updates all the rows in your production table. But no one knows about it until the next day. What do you do?
Yes, you have database backups (you do, don't you?) and other safeguards in place. But bad things still happen to good databases. Is there a recovery approach other than restoring from backup, and then rolling the right transactions forward? Toad® for Oracle has a little-known ability to "mine" Oracle's re-do logs.
In this session, learn how this one feature alone could save you time and aggravation when recovering from unplanned events to the database.
You will learn:
The reasons and context for using Toad's Log Miner
Common work flows for using the Log Miner
How to search the log activity for specific transaction profiles
How to reconstruct past transactional activity for possible re-play
How to undo undesired historical transactions
Speaker
Gary Jerep, Software Solutions Consultant
Biggest take away from this webcast
Straight from our speakers to you: read why they think you should attend this webcast and the key take away that is their favorite learning point.
"As I was conducting a Toad Tips and Tricks session to a group of DBAs not long ago, a rather remorseful chuckle from the DBA manager suddenly interrupted my demo of the Log Miner. He explained that they could have used the Log Miner a few months ago, had they known about it," said Gary Jerep, software solutions consultant at Quest Software.
"Turns out that, sure enough, the team had to recover from an accidental update to a production table that wasn't discovered for a few days. They restored from backup and rolled forward to recover successfully, but not without a few extra man-hours of headache. Admittedly in their case, the Log Miner could have accomplished the same recovery in a fraction of the time," said Jerep.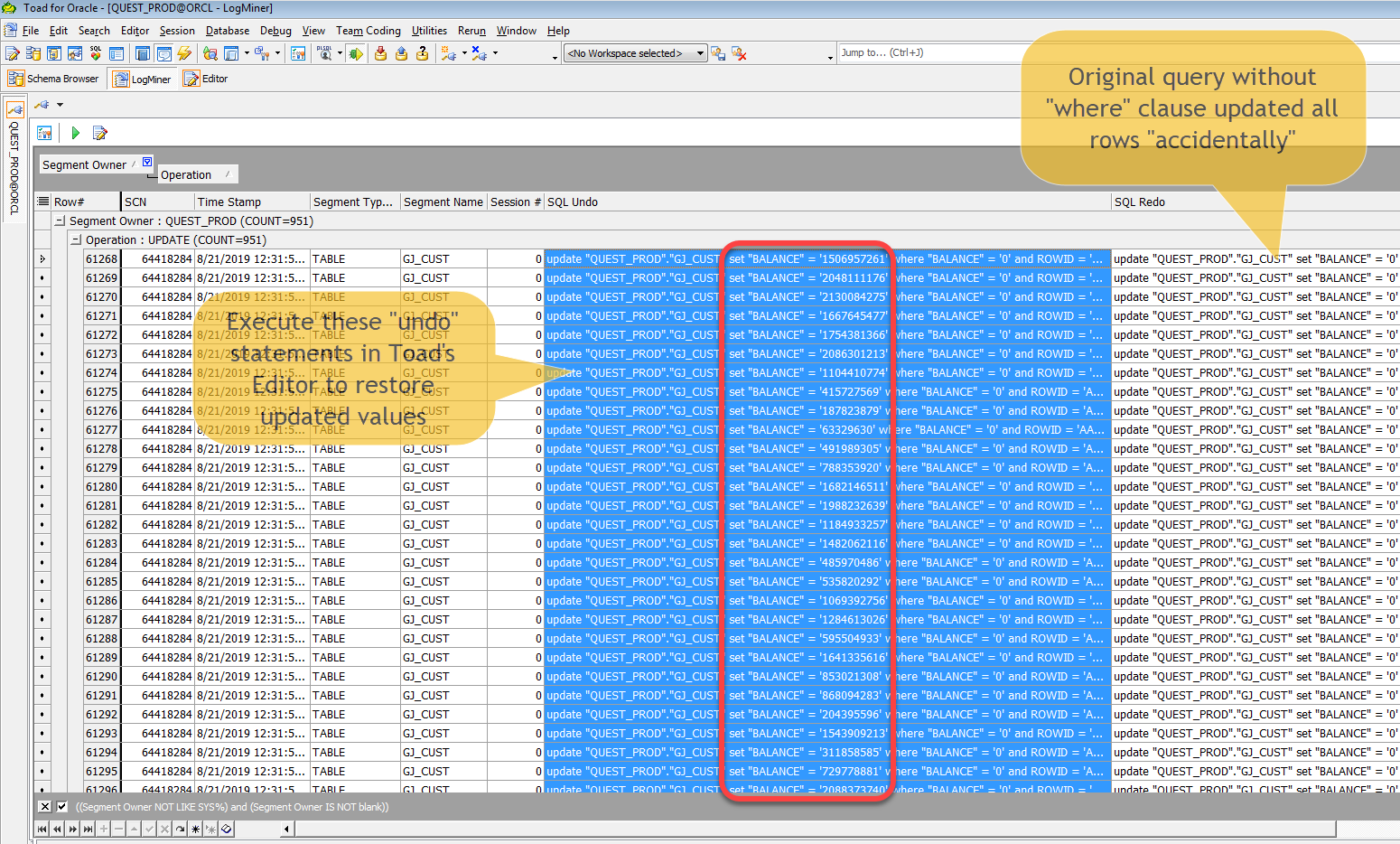 "It's beautiful to see time after time how Toad features like this one can increase productivity, reduce risk, and save reputations," concluded Jerep.
Ask Toad: A webcast series for Toad for Oracle users
If you're interested in knowing how to recover speedily from undesired database activity, or if you need to gain insight regarding database activity trends—without the overhead of Oracle Audit!—enjoy a 30 minute break to learn something new. Pick one or pick them all, watch this webcast series now.

Productivity with Toad. What's in your pond?
Want to save hours, increase accuracy and enjoy easier workdays? We're offering our top three Toad editions so you cantry Toad free for 30 days. Which Toad edition is right for you? Find out with our feature matrix.
Are you already in a trial? Talk to sales or buy now online.