Rapid development cycles make it more important than ever to track and document changes to your source code. Many Toad® customers are already using a version control system (VCS) without realizing they can integrate it with Toad and have Toad handle the backend processing.
In this session you'll learn about the features of Toad Team Coding. I'll show you how to integrate your VCS, check-in/check-out/edit existing objects and add new objects to the VCS.
You will learn how to:
Access Toad Team Coding
Integrate your VCS and Team Coding
Check-in and check-out existing objects and edit them
Add new objects to the VCS
Speaker
Mark Kurtz, SW Sales Engineer I
Biggest take away from this webcast
Straight from our speakers to you: read why they think you should attend this webcast and the key take away that is their favorite learning point.
"Toad makes it easy to check-in and check-out your code from your VCS and it allows you to keep all of your code up-to-date with ease," said Mark Kurtz, software sales engineer I at Quest Software.
Below is a screen shot of the Team Coding drop down menu.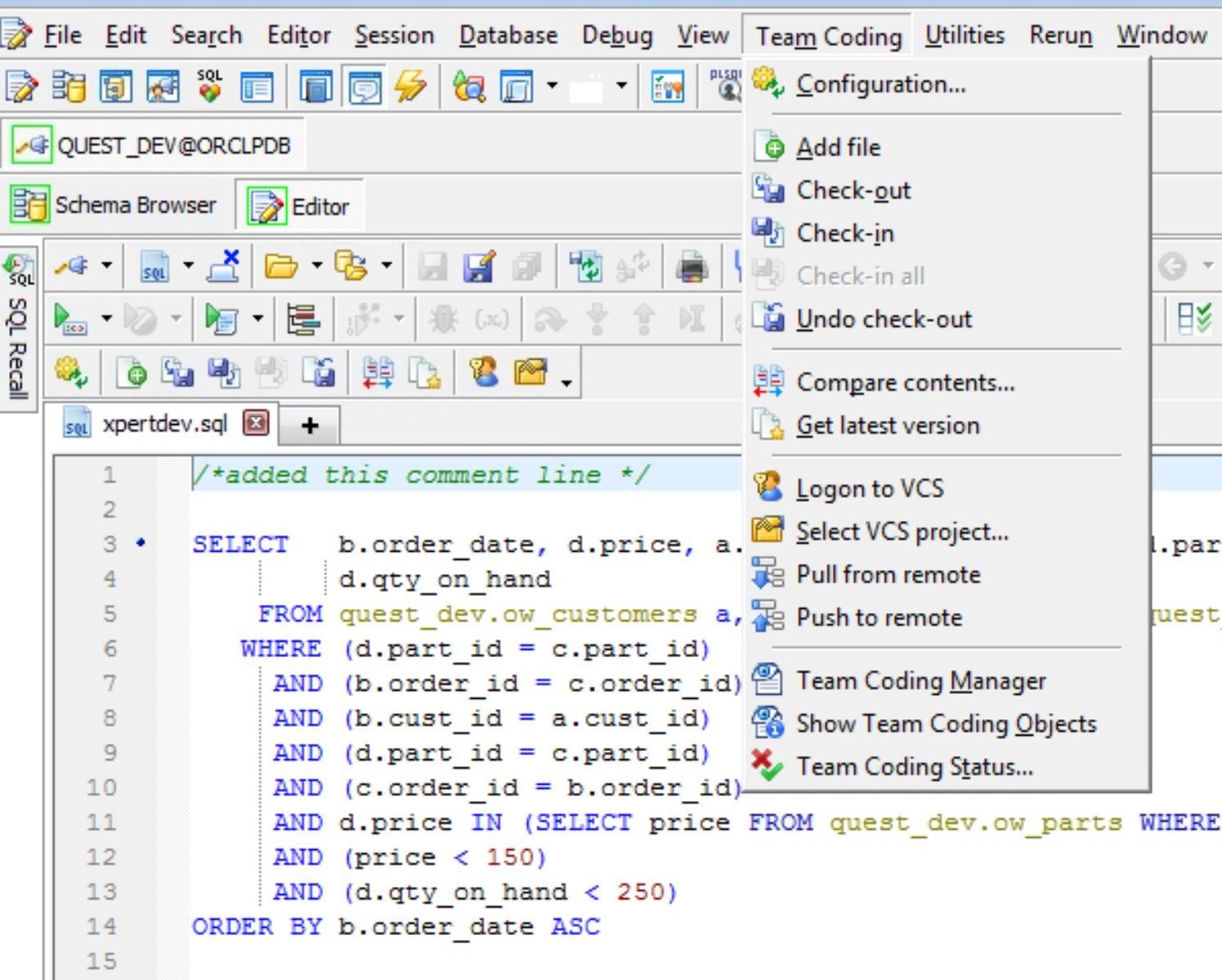 Ask Toad: A webcast series for Toad for Oracle users
If you're interested in automatically ensuring coding best practices to reduce risk and avoid the stressors associated with coding errors in production—enjoy a 30 minute break to learn something new. Pick one or pick them all, watch this webcast series now.

Improve your code quality
Want to save hours, increase accuracy and enjoy easier workdays? We're offering our top three Toad editions so you can try Toad free for 30 days. Which Toad edition is right for you? Find out with our feature matrix.
Are you already in a trial? Talk to sales or buy now online.