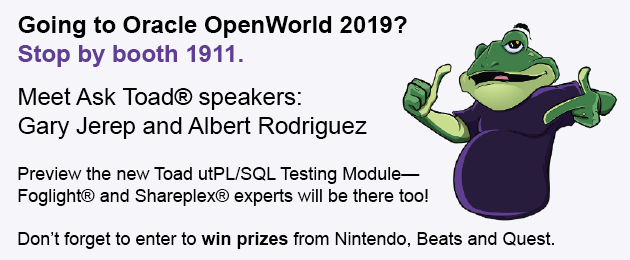 Join Quest experts in Session 1 of the Ask Toad webcast series where we answer, "How do you enforce coding best practices in Toad for Oracle?"
Are you dealing with unplanned development cycles due to poor code quality and technical debt? Is your development team using agile or DevOps methodologies? All this pressure to cut costs and move faster allows less time for traditional code reviews. And that's a serious problem. According to one study, code bugs cost $1.1 trillion – worldwide, in a single year!
But what if you could automatically ensure coding best practices are followed? This would mean you'd reduce risk and avoid the stress, costs and hours of work involved when coding errors make it to production. In this session, you'll see how to use the Code Analysis feature in Toad® for Oracle to improve code quality.
You will learn how to:
Customize, schedule and automate code reviews and reports.
Get real-time feedback to improve your code as you work.
Use Toad to scan for known issues, grade code, measure complexity and identify rule violations.
Create your own rules and categories and easily modify existing Toad rules.
Share rule sets with your colleagues to ensure consistency.
Bring code reviews into a DevOps pipeline.
Speakers:
Mathew Phan, SW Sales Engineer I; Jeff Surretsky, SW Sales Engineer III
Biggest take away from this webcast
Why is good code important? Because bad code costs money, time, and resources. It affects everyone.

The screen shot above shows an example of the automated code reviewing system that gives suggestions on how to make your code better.
"It's like having another developer over your shoulder giving you advice," said Mathew Phan, software sales engineer I at Quest Software.
Ask Toad: A webcast series for Toad for Oracle users
If you're interested in automatically ensuring coding best practices to reduce risk and avoid the stressors associated with coding errors in production—enjoy a 30 minute break to learn something new. Pick one or pick them all, watch this webcast series now.
Improve your code quality
Want to save hours, increase accuracy and enjoy easier workdays? We're offering our top three Toad editions so you can try Toad free for 30 days. Which Toad edition is right for you? Find out with our feature matrix.
Are you already in a trial? Talk to sales or buy now online.