It's double the fun when you attend Quest® Toad® for Oracle and Toad Data Point free training! Get personalized tech advice from industry experts in our Toad Training Tuesdays.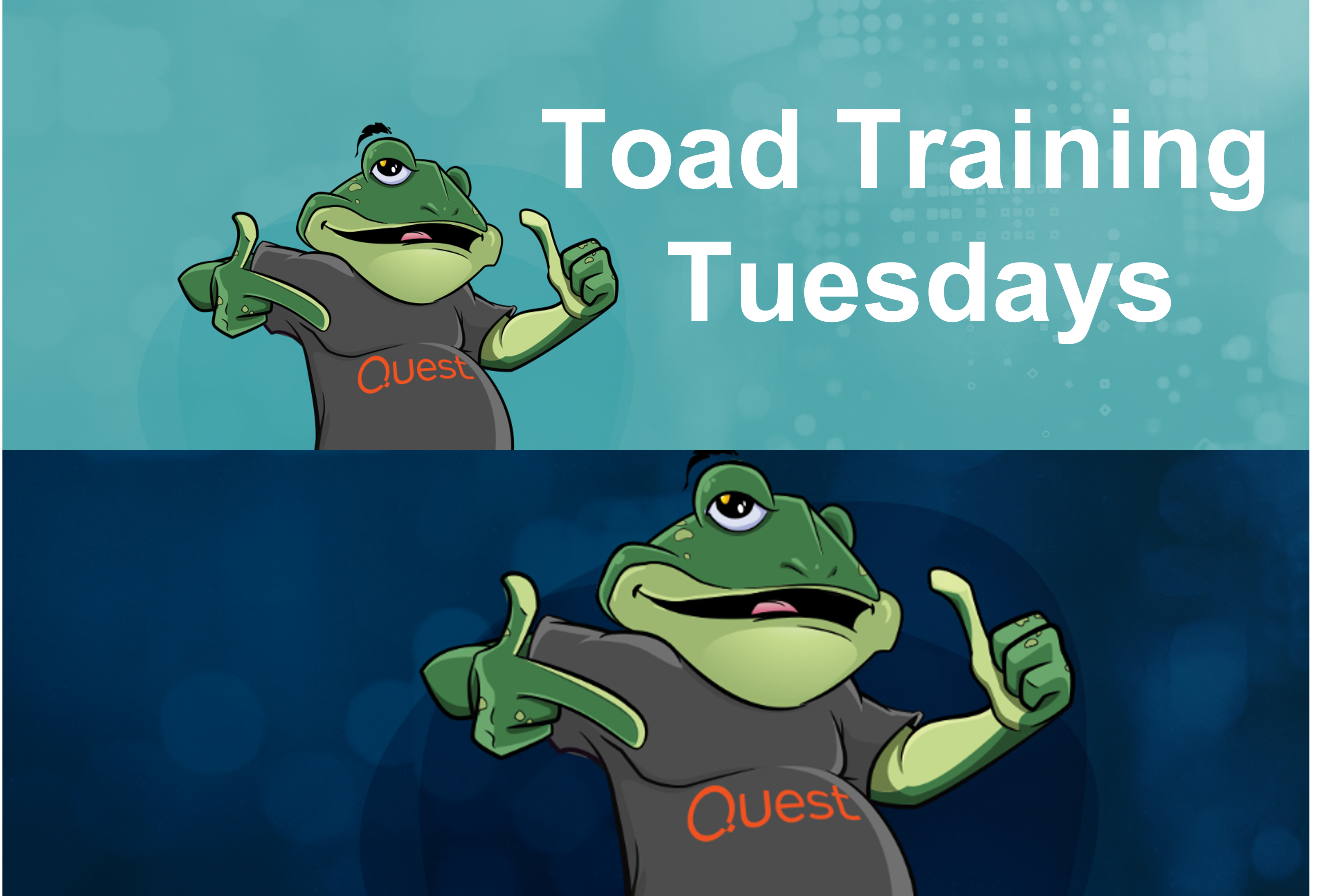 Our tech gurus are teaming up to help you overcome your biggest IT obstacles. Through 30-minute trainings, that include time for Q&A, you'll receive guidance to navigate your specific tech challenges and reach your goals.
Each series will equip you with the training you need to simplify your work, reduce risk and gain more confidence when using Toad for Oracle or Toad Data Point.
Toad for OracleTraining Tuesdays:1st Tuesday of each month.
For more than 20 years, Toad for Oracle has been the most effective, advanced and premium productivity solution for Oracle DBAs and Developers. Whether you're just learning about Toad for Oracle and want to see how it works, or if you're a user who needs help, attend these Toad for Oracle free training classes. Offered the first Tuesday of each month, database developers and DBAs will learn how to effectively use Toad for Oracle and maximize their investment. Upcoming sessions are:
May 3: How Do I Use Automation Designer in Toad?
June 7: Toad for Oracle Editor: favorites and hidden gems
August 2: Advantages of using SQL Spool and SQL Tracker in Toad
September 6: Toad connection error: resolved
Get Toad For Oracle training now!
Toad Data Point Training Tuesdays: 2nd Tuesday of each month.
Are you getting requests for data sets and reports? If you're just learning about Toad Data Point and want to see how it works, or if you're a user who needs help, attend these Toad Data Point free training classes. Aimed at business users and data analysts, these classes are sure to help you learn the easiest ways to self-serve data preparation. Offered the second Tuesday of each month, you'll learn how to use Toad Data Point and prepare data like a pro. Upcoming sessions are:
May 10: How to Compare Differences in Data
June 14: Workbooks with variables
July 12: How to use automation designer in Toad Data Point