Interested in learning still more about Toad? Check out these excellent reference books written by Quest's very own Toad experts.
Toad for Oracle Unleashed
by Bert Scalzo, Dan Hotka
288 pages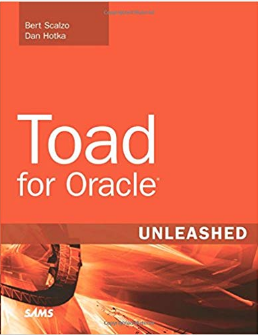 Bert Scalzo and Dan Hotka have written the definitive, up-to-date guide to Version 12.x, the Dell's powerful new release of Toad for Oracle. Packed with step-by-step recipes, detailed screen shots, and hands-on exercises, Toad for Oracle Unleashed shows both developers and DBAs how to maximize their productivity.
TOAD Handbook (2nd Edition)
by Bert Scalzo, Dan Hotka
312 pages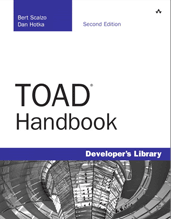 TOAD Handbook is a guide for developing Oracle applications and administering Oracle databases with TOAD. Starting with installation and configuration, the book covers the TOAD SQL editors in depth, including dozens of helpful, undocumented features. Later chapters discuss reporting and exporting data and using several add-on tools designed to enhance TOAD development. Along the way, the authors provide critical insights into the workings of TOAD and how developers can use it to make the most of their applications. Includes a foreword by Jim McDaniel, the inventor of TOAD.
Toad Pocket Reference for Oracle, Second Edition
By Jeff Smith, Patrick McGrath, Bert Scalzo
Pages: 128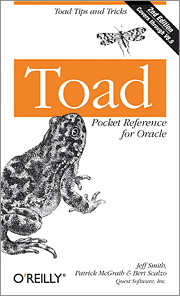 This edition, revised for Toad for Oracle V8.0 and V8.5, provides a quick reference to this very popular interactive environment tool. It covers new features (e.g., CodeXpert and Script Debugger), shortcut keys and productivity tips. If you're a developer needing to streamline code development or a DBA trying to simplify day-to-day administrative tasks, this pocket-sized guide is the one book to have by your side.
Oracle Administration mit Toad
von Patrick Schwanke
364 Seiten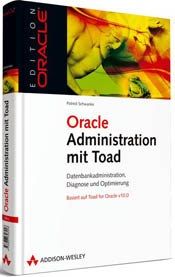 Toad wurde in den letzten 10 Jahren immer weiter in Richtung Datenbankadministration ausgebaut. Dieses Buch beschreibt, wie verschiedenste DBA-Aufgaben mithilfe von Toad erledigt werden können. Themen wie Verwaltung, Diagnose, Monitoring, Health-Checks oder Optimierung werden mit zahlreichen Hinweisen sowie Tipps und Tricks aus der Praxis adressiert. Von den Themenfeldern ausgehend weist der Autor jeweils den Weg zu den einschlägigen Fenstern und Funktionen im Toad. Dadurch erfahren Sie Schritt für Schritt, wie Sie dieses mächtige Werkzeug für die unterschiedlichsten Aufgabenbereiche nutzen können. Das Buch basiert auf der Toad-Version 10.