Remember the old days of original "dark mode?" I do. When I was in my second year at university, I was delighted to receive a personal computer XT as a gift. It was a wonderful gift because it allowed me to stop programming on paper and start programming for real! At that time, I programmed in Turbo Pascal and spent long hours in front of the monitor, marveling at everything we could do as programming apprentices.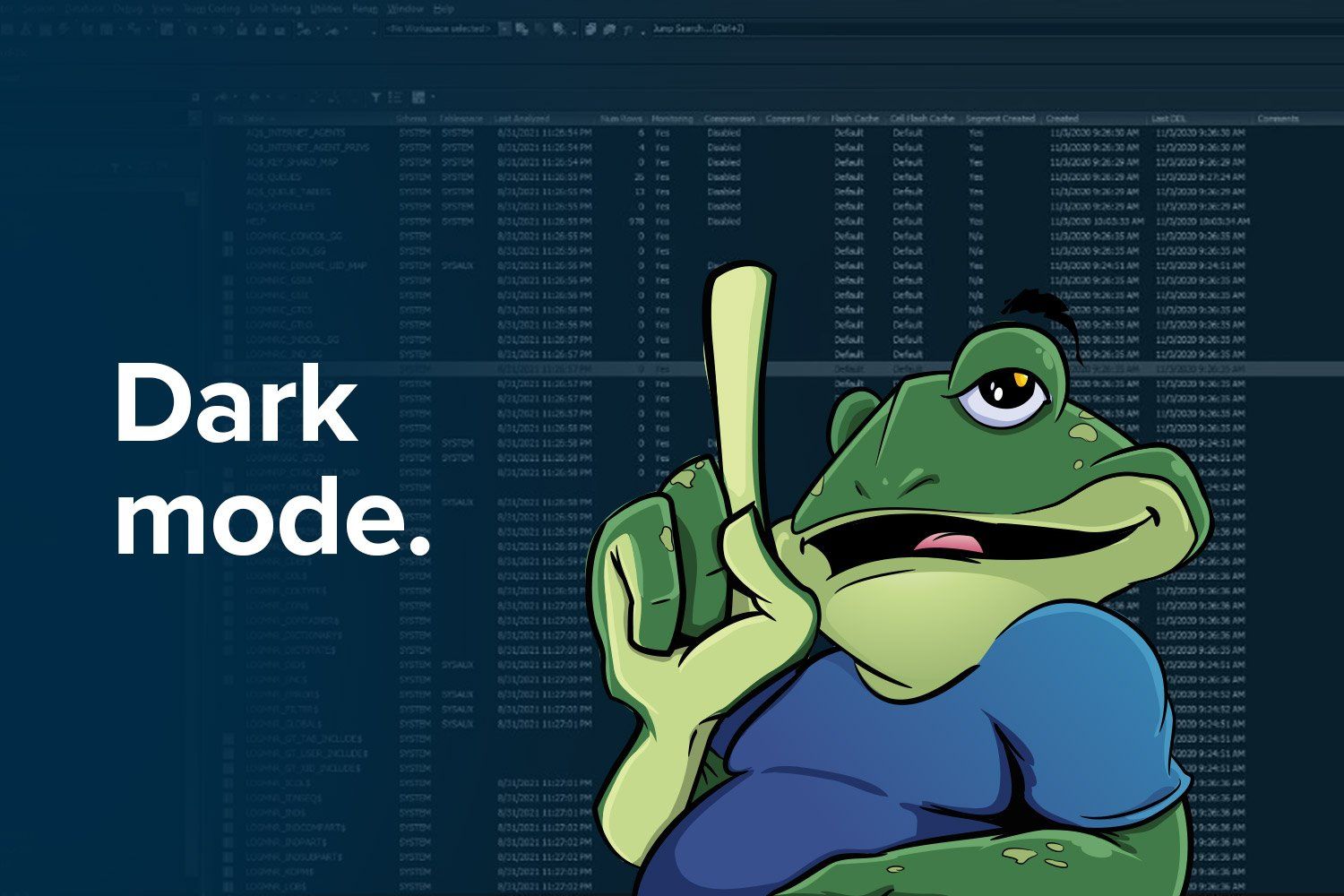 The monitors in those days used to be composed of cathode ray tubes, and I hardly worked with graphic interfaces at that time. My user experience was almost always a black screen with yellow letters. With the launch of dark mode in Quest® Toad® for Oracle 15.1, I am so excited to choose a visual theme that pays homage to my early days of programming!
Benefits of dark mode
Today, software providers are dedicated to providing users with options for a better visual experience within their programs and applications. Dark mode in particular has become incredibly popular, and most large software vendors have incorporated the option to use their products in darker color schemes. But why did darker interface color schemes become fashionable to the point that practically all tools offer us this functionality today? What exactly are the main benefits of working in dark mode? Why am I excited about the new Toad for Oracle dark color scheme options? Keep reading to find out my key reason to be excited about Toad for Oracle dark mode.
Fresh interface
After working with Toad for Oracle in light color scheme for so long, the fact that I can change the style and color theme makes me feel like I'm working with a brand-new tool. For me, the dark color scheme is much more attractive, and offers a feeling of freshness to a frequently used application.
Distinguishing syntax
Another reason I like to work with a dark color scheme is that I can better see the code to distinguish the syntax by the different colors that stand out on a dark background. This helps me a lot in my day-to-day work.
Less eye strain
Prolonged screen use can lead to eye strain. In a world where most of our time is spent on screens, it's important to take steps to protect eye health. Darker color schemes can cut glare, reduce exposure to blue light and offer a soothing environment for eyes. In my experience, the dark theme does not dry out the eyes as much as the light theme.

Improved rest
According to the American Academy of Ophthalmology, decreasing exposure to blue light and limiting screen brightness can help lead to better sleep and rest. Too much exposure to bright light can suppress the secretion of melatonin—a much-needed hormone for sleep—and make us feel more awake. A lack of sleep can lead to a variety of other health issues. For the sake of personal health and improved rest, consider using dark color themes.
Easier to concentrate
Another benefit of using dark mode is that it can make it easier to concentrate on the task at hand. This happens because our eyes, by human nature, can more easily find something bright in a dark environment. In the context of Toad for Oracle, using darker color schemes helps users see the text clearly in the code editor because of the contrast.
Energy savings
Some users point out that they like to using darker color schemes to save energy. Though the overall energy savings of darker color scheme amounts to a few percentage points, small steps every individual makes can have an impact.
Dark mode in Toad for Oracle
For all these reasons, many companies in recent years have worked hard on their products to incorporate darker color schemes for their users. In this latest update, Toad for Oracle incorporates a new option to select different color schemes including a variety of dark color schemes. As a result, we can choose from 27 different color schemes.
Aqua Graphite
Aqua Light Slate
Black Hole
Carbon
Charcoal
Cobalt
Cyan Dusk
Cyan Night
Daybreak
Divided Sky
Emerald Light Slate
Foam
Golden Age
Golden Graphite
It's Ice
Lavender
Light
Lilac Night
Onyx Blue
Pale Blue
Punch You In The Eye
Ruby Graphite
Silver
Smokey Quartz
Steam
Thunderstorm
Turquoise Gray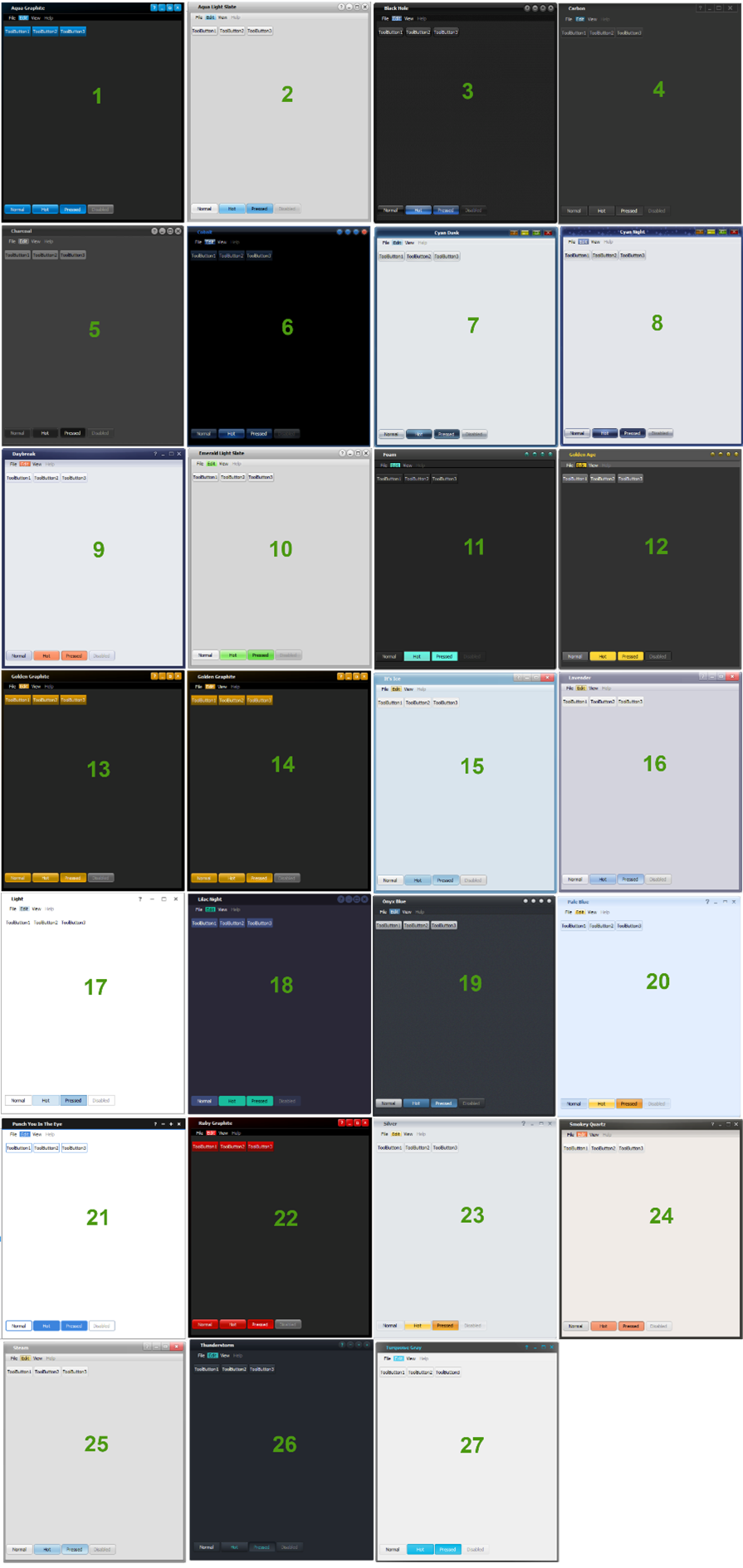 As shown in Figure one, are 13 darker color schemes out of 27 in total. This variety should satisfy all the tastes of Toad users.
How to enable dark mode in Toad for Oracle
Here's how to enable dark mode or any of the new and different styles available in Toad for Oracle 15.1.
Access Toad for Oracle and click on Color Schemes then select Toad Options…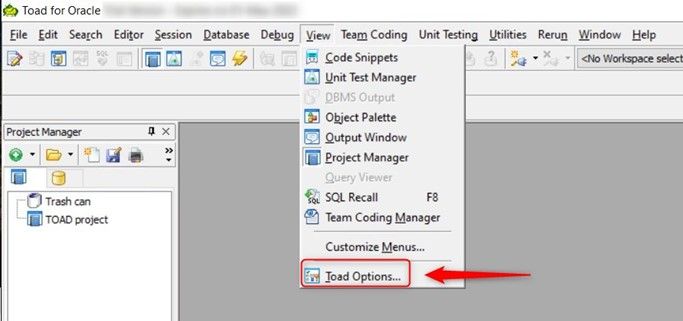 Within the list of options, select Color Schemes.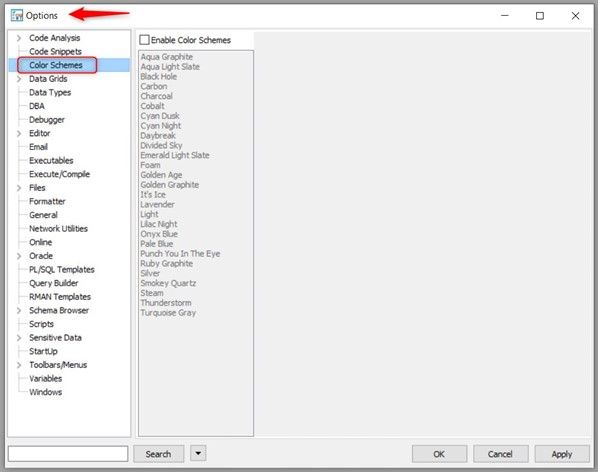 Mark the Enable Color Schemes checkbox to enable the color schemes. You'll observe the first Aqua Graphite style in a dark theme.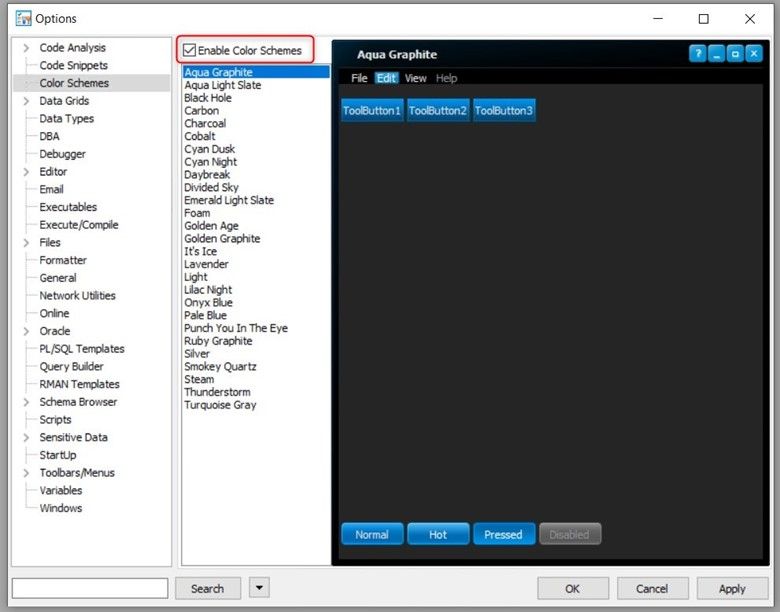 Browse through each option and select the color scheme that best suits you and the way you work. For example, I love the "Ruby Graphite" style (black and red).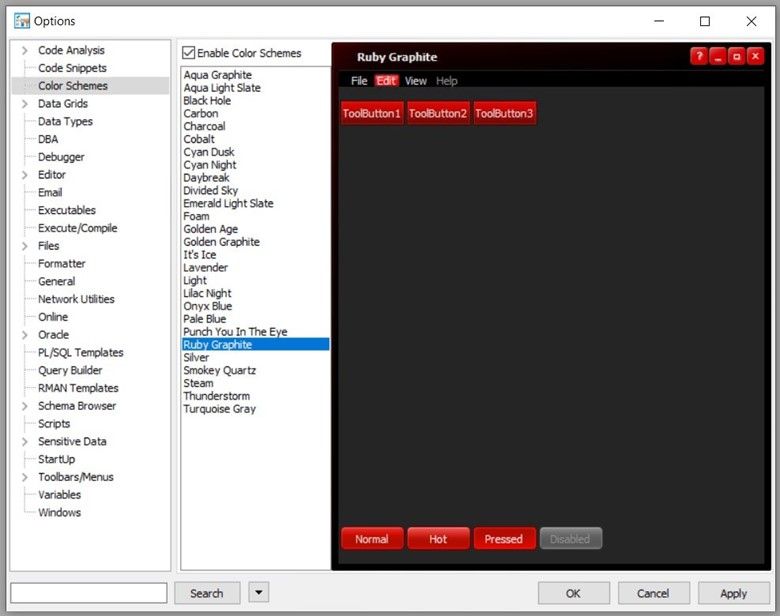 To apply the style to Toad, simply click on the Apply button.
Toad asks to restart and then you can continue working with the new color scheme and style.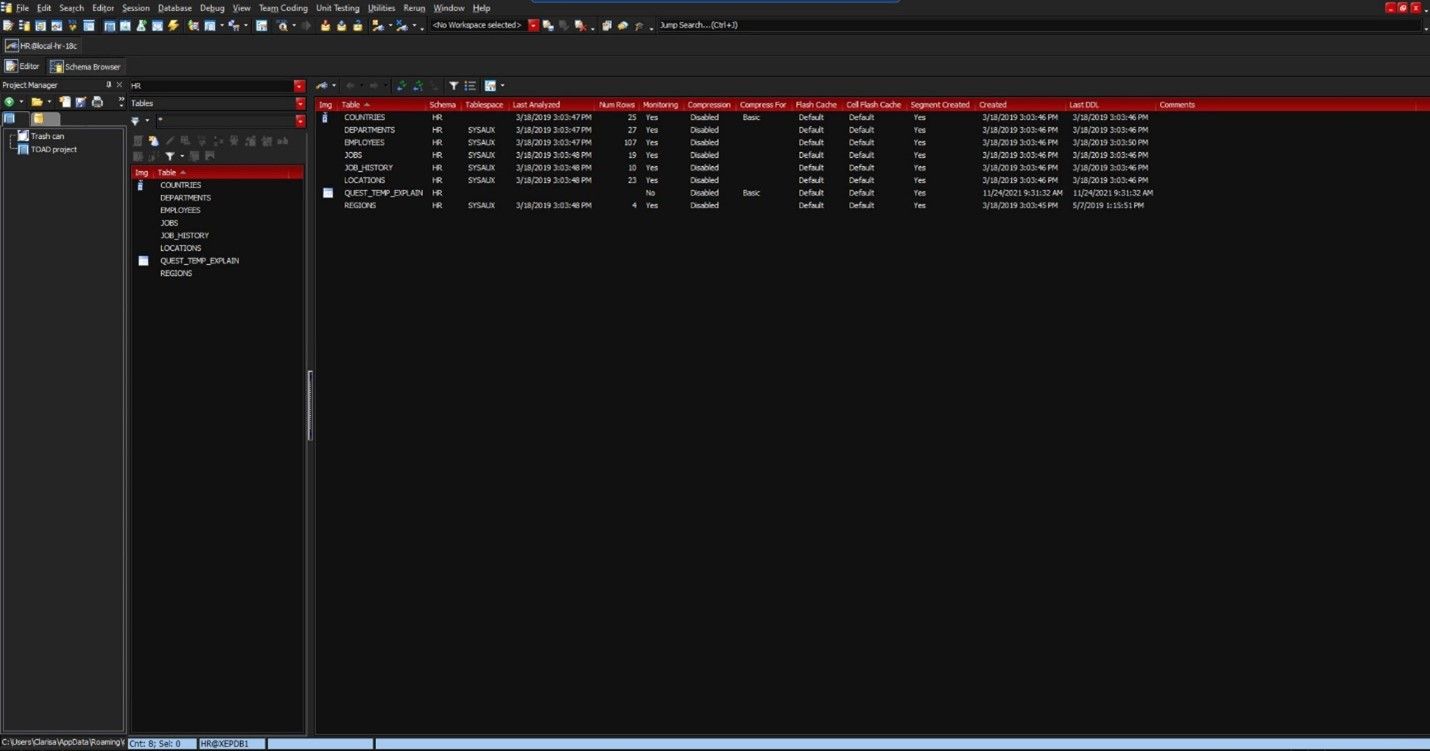 The color scheme is applied to the entire tool, allowing users to experience a completely new user interface.
I personally love how any dark style will allow code to stand out in the Editor.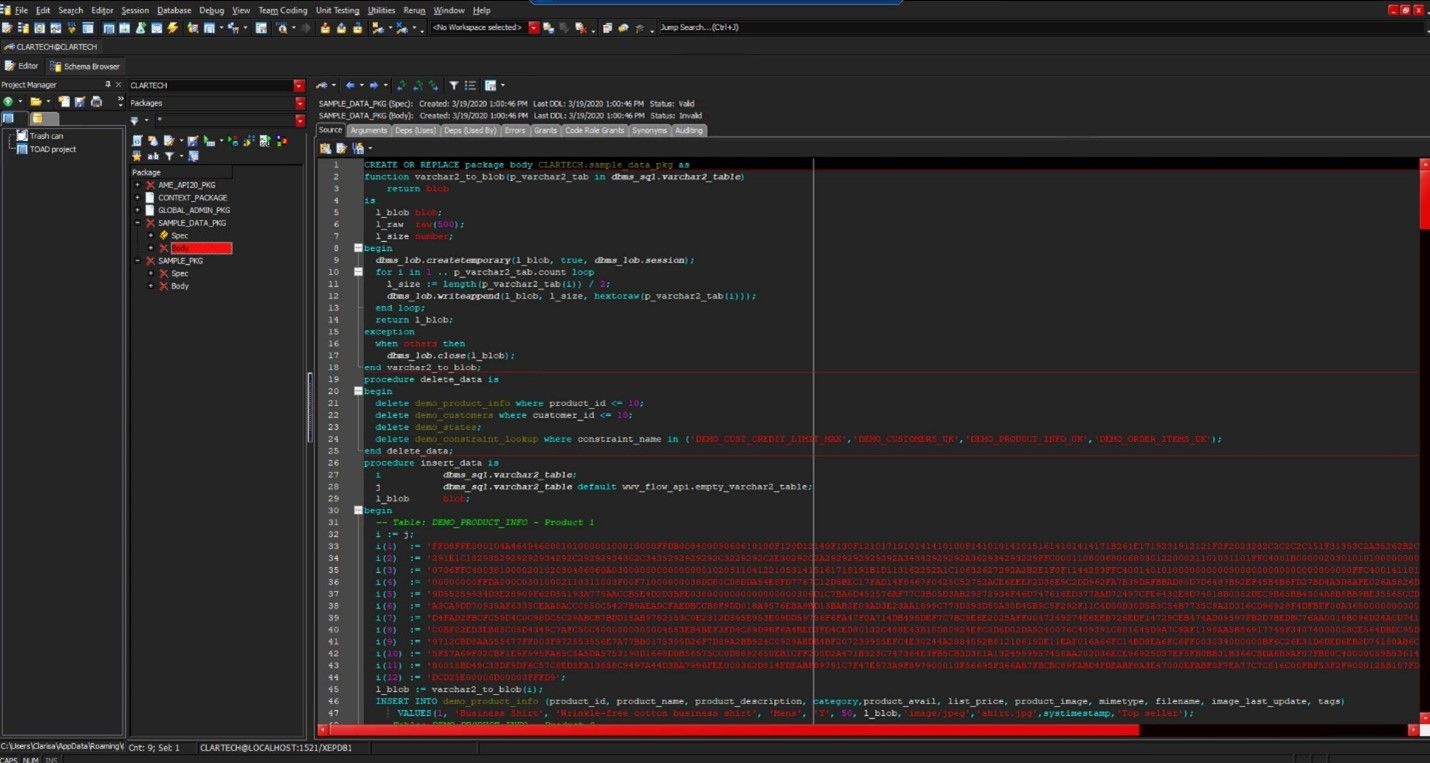 Now that there are different themes, it is beneficial to know how to change the styles and fonts of the Toad editor.
To do this, in the same Toad Options pop-up window, navigate to the Editor tree node, expand it, and select Font and Styling.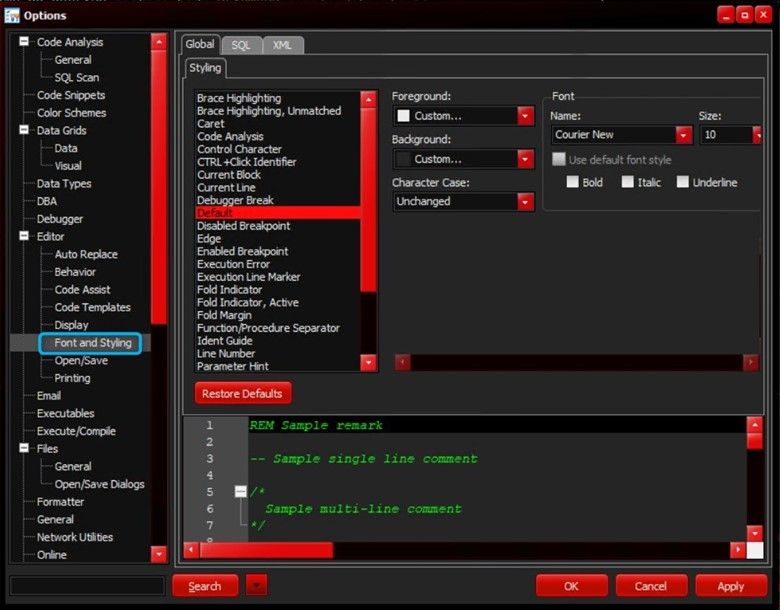 In this window, you can change the background, foreground, font type, size, and style of the font. In addition, you can configure how you want to see the code in the editor according to the theme that you have selected.
Get Toad for Oracle Base Subscription today
Subscription / eStore: buy up to 10 licenses at a time, get auto update, support, announcements/invites to education.
Talk to our professionals: demos, custom solutions, volume discounts.
Not ready to buy? Get Toad for Oracle a 3rd way … try it free for 30 days.

The use of dark mode has gained popularity among developers and users, thanks to its benefits of visual health, improved rest and concentration, and energy savings.
As a programmer and like many users, we spend a large part of our lives in front of screens and monitors. A question I constantly ask myself is, "what can I do to improve my workspace?" For me, I always look for ergonomic comfort, which includes sitting in a good chair and taking advantage of darker color schemes to protect my visual health.
For more color scheme details, view this on-demand webinar: A comparison of our two best sellers, Base and Xpert; which one do you need? — Plus dark mode.
More information about Toad for Oracle
Learn More about Toad for Oracle