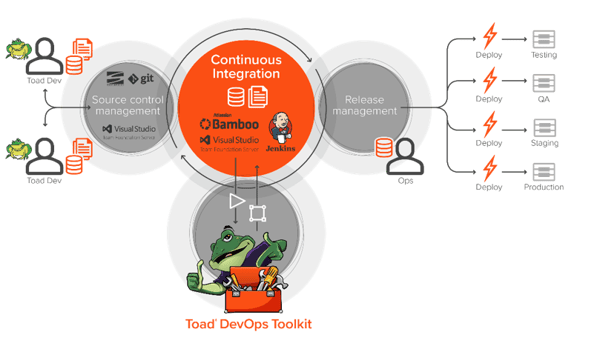 Toad DevOps Toolkit has been on the market now for 12 months and has created a huge amount of interest with companies trying to figure out how to integrate their Oracle database change management into their DevOps pipeline.
Some customers have already implemented Toad DevOps Toolkit into their DevOps infrastructure and are using it in production. Read this Case Study to learn how a major Financial Services company in the US successfully implemented Toad for Oracle and Toad DevOps Toolkit and how they shortened their database change release cadence from eight weeks to two.
We launched Toad DevOps Toolkit 1.2 on October 18 – just prior to Oracle OpenWorld.
The main change for this release is to do with the way the product is licensed. Initially, we offered online license activation which required internet access at the point of activation as well as subsequent validations. However, for some customers, this was a challenge – so in this release, we now offer ONLY offline license keys.
How to Apply Toad DevOps Toolkit 1.2 Licensing
When you download a trial version or purchase a commercial version of Toad DevOps Toolkit, you will be sent a license file by email.
Before you can use Toad DevOps Toolkit, you must apply your license file. A .dlv license file containing your valid license number is attached to this email and is used to license Toad DevOps Toolkit.
For full installation information, see the Toad DevOps Toolkit Installation Guide
Check out our resources at www.toadworld.com/products/toad-devops-toolkit and kick-off your Toad DevOps Toolkit experience on the right foot.