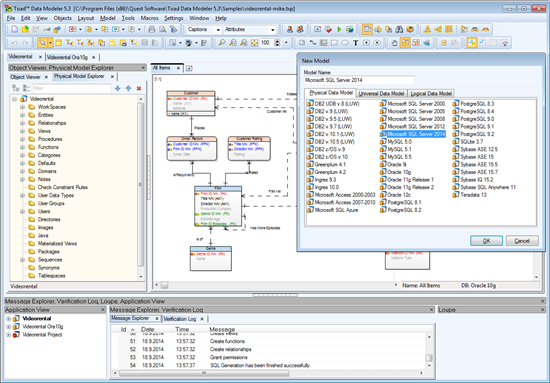 Database Modeling
Support for three different types of models:
Logical model with support for inheritance.
Universal model (Generic physical model).
Physical model (+40 platforms) with Logical/Physical views.
Newly supported platforms:
Microsoft SQL Server 2014 and
DB2 v. 10.5 LUW.
Basic features
Workspaces – allows you to split larger model.
Autolayouts – for automatic rearrangement of objects in diagram.
Object Alignment, Grid, Snap to Objects…
Coloring, Arrangement and other common features.

Visual Creation of Databases
Entity Relationship Diagrams.
Database objects defined visually.
Automatic migration of foreign key attributes in physical model.
Automatic mapping of existing attributes.
Automatic creation of indexes to foreign keys.

Model Verification
Find errors in your model.
Navigate to problematic objects.
Use Quick Fixes to fix problems at once.

SQL Code Generation
Generate complex database platform specific DDL scripts.
Define detailed settings for SQL code generation.
Open generated script in associated application.

Reverse Engineering
Create connections to your databases.
Create a new model based on existing database structure.
Import from SQL files is supported for many database platforms.

Reporting
Generate reports in HTML, RTF or PDF format.
Use XSL Transformation to create custom reports
Export diagram to image file for printing purposes
Export metadata to excel.
Responsive layouts in HTML reports.

Quick Search
Press CRTL+F to open the Quick Search form.
Use standard search as well as advanced techniques, including:

Word recognition
Camel case
Dot notation
Wildcards

Synchronization
For majority of supported platforms, synchronization features are available.
Compare models or model with database and generate alter scripts (change scripts).
Update model from database.
Possibility to save settings & items selection.

Model Conversion
Convert logical model to selected physical model, e.g. Oracle or SQL Server model.
Convert physical model to another target platform. Create model for Oracle 12c and convert it to PostgreSQL 9.2 etc.
Possibility to run conversion again with already saved settings.

Macros and Scripting
Use in-built macros or create your custom macros with additional functionality.
Modify objects in batch mode.
Create simple forms for input definitions.
Use scripting for fast JavaScript code execution.

Excel Export/Import
Export metadata to Microsoft Excel.
Do changes in Excel.
Import the modifications to model file.

Advanced Features
Naming Conventions – define restrictions and make sure your model doesn't contain any naming convention violations.
Default Values – allows you to specify how new objects will be named.
Gallery – for storing frequently used parts of models.
Support for SVN
Refactoring Utility
Schema/Owner Assignment Utility
Templates for stored procedures and functions
ToDo List and more.
Model Actions for quick execution of synchronization tasks.