Register now for this virtual event, scheduled November 10-11.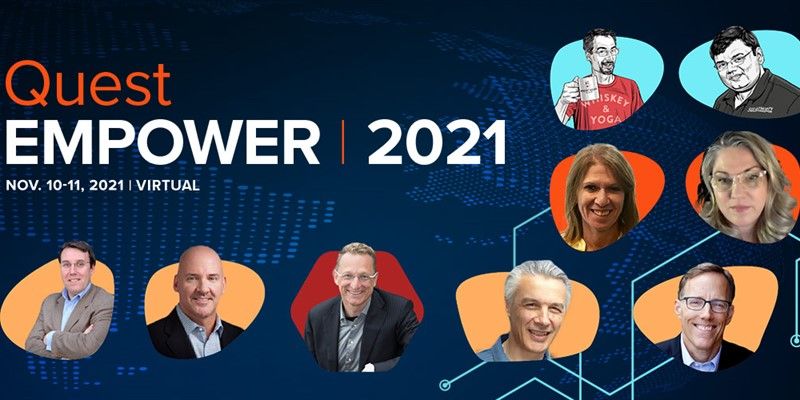 The ability to make rapid business decisions to remain competitive hinges on data – access to it and the means to derive useful insights from it. While that goal sounds straightforward, modern enterprises are facing challenges in achieving it because so much data is inaccessible, poorly understood or completely unknown. Meanwhile, every critical digital transformation initiative – like cloud migration, model-driven DevOps, sensitive data protection and application modernization – has data at its center.
Quest EMPOWER 2021 (Nov 10-11) is the first annual virtual conference that brings together the Quest global community of customers, partners and friends to learn about and expand their understanding of our data empowerment solutions.
Many Quest customers are already leveraging our best-of-breed tools for data operations, data protection and data governance. Sessions and keynotes will bring these areas together and show how our solutions work to empower all users to find, understand and use relevant enterprise data assets for faster, smarter decisions.
Quest solutions place data at the center so you can build applications, establish operational processes and implement governance and security practices. You can deploy these solutions anywhere, harness data from any source and empower everyone with the data intelligence they need to succeed.
Highlights of Quest EMPOWER
One of the biggest benefits of attending any customer conference is the opportunity to hear directly about product roadmaps. Quest EMPOWER will deliver – with eight product roadmap sessions covering most of our information and systems management portfolio – Foglight, Toad, SharePlex, NetVault, QoreStor, erwin and more.
These confidential sessions will not be recorded, so you must attend the virtual presentation to hear directly from our product managers. Be sure to check the agenda to see when your products of interest are scheduled.
While the conference may be virtual, you'll still have an opportunity to enjoy live demos with product experts in one of our demo lounges. Staffed throughout both days of the conference, the demo lounges will connect you with a specialist who can show you around Quest products. Be sure to check out the "rooms" for each track – data protection, data governance and data operations. Look for the demo lounge links during the conference.
The Quest support teams fields hundreds of questions about how to use our products, and they are a wealth of information on the easiest ways to get things done. During the support Q&A sessions, you'll get 15 minutes of choice "how-to" nuggets and then 30 minutes devoted to answering your questions about your favorite products.
Need more reasons to attend?
In case you need more convincing, here are some additional reasons to attend Quest EMPOWER:
It's free – we're providing product education, solutions to pressing business problems, access to our product and support teams, and thought-provoking sessions at no cost.
It's virtual – there's no need to travel; watch all our sessions and participate in the demo lounges/Q&As from the comfort and safety of your own desk.
It's empowering – you'll learn about all the Quest solutions that you need to put data at the center of your digital transformation initiatives.