Yesterday evening I received an email titled 'Invitation to Developer Champion Program'.
What a surprise!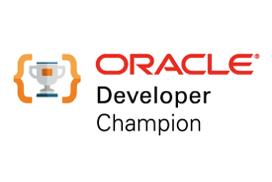 The Oracle Developer Champion program was setup just a year ago and is aimed at people who are active in generating content and sharing their knowledge on new technologies including cloud, micro services, containers, Java, open source technologies, machine learning and various types of databases.
For me, I fit into the machine learning, cloud, open source technologies, a bit on chatbots and various types of databases areas. Well I think I do!
This made me look back over my activities for the past 12-18 months. As an Oracle ACE Director, we have to record all our activities. I'd been aware that the past 12-18 months had been a bit quieter than previous years. But when I looked back at all the blog posts, articles for numerous publications, books, and code contributions, etc. Even I was impressed with what I had achieved, even though it was a quiet period for me.
Membership of Oracle Developer Champion program is for one year, and the good people in Oracle Developer Community (ODC) will re-evaluate what I, and the others in the program, have been up to and will determine if you can continue for another year.
In addition to writing, contributing to projects, presenting, etc Oracle Developer Champions typically have leadership roles in user groups, answering questions on forums and providing feedback to product managers.
The list of existing Oracle Developer Champions is very impressive. I'm honoured to be joining this people.
Click on the image to go to the Oracle Developer Champion website to find out more.

And check out the list of existing Oracle Developer Champions.