You're juggling a lot – from hybrid database environments and the pressure to cut cloud costs, to tighter compliance regulations and more. Get expert guidance to keep up with it all in this webcast.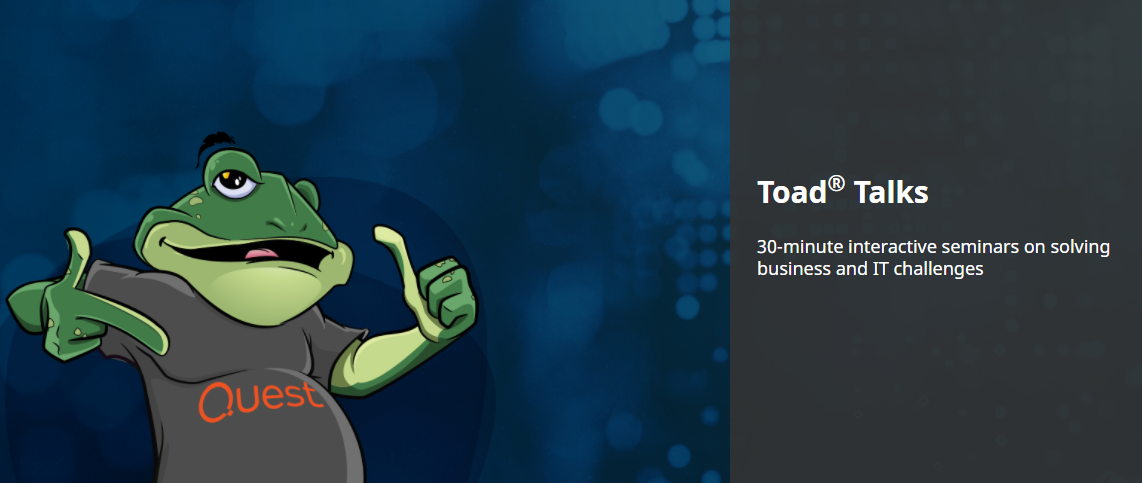 Out this fall, Toad for Oracle Xpert Plus Subscription edition, will be our most powerful Toad subscription yet. It will help you to dramatically simplify your work, reduce risk and take your productivity to the next level.
But if you're getting along just fine with another Toad product or subscription, you may be wondering, "Why should I consider a Toad for Oracle Xpert Plus Subscription?" Julie and John will show you, revealing the unrivaled combination of features it includes to make your workdays easier than ever.
In this Toad Talks session you'll see how to easily:
Maximize visibility across your hybrid Oracle database environment

Improve workload performance and minimize cloud spend

Protect personal and sensitive data to ensure compliance
Julie and John will also go over cool functionality in our other Toad subscription offerings, providing a great comparison to help you select the right edition for your needs. No matter which offering you chose, you can't go wrong with a Toad subscription – the most affordable and convenient option for individual Toad users.
Ask Toad webcast: How can a Quest® Toad® for Oracle Xpert Plus Subscription help me?
Date: On Demand
Duration: 30 minutes
Interested in more Toad Talks free webinars?
Get more personalized tech advice from industry experts in the free data and database webinar series Toad Talks 2021.
Join product manager, Julie Hyman and product evangelist John Pocknell in interactive sessions to help you overcome your biggest IT obstacles. Live sessions begin at 11:00 a.m. EST or watch on-demand. These 30-minute discussions, are casual and include time for Q&A. Get guidance on how to navigate your specific tech challenges and reach your goals.
Julie and John will discuss:
Real-world challenges around cost savings and business value
IT transformation projects
Cloud optimization
Data operations
Data provisioning
Data security
Performance tuning
And more
This series will equip you with the strategies you need to simplify your work, reduce risk and gain more confidence with emerging technologies.
Reserve your place for upcoming sessions or watch on demand.
Help your colleagues and let them know about free database webinars. Share this blog with your friends now via the social media icons at the top of this post.