The Toad subscription you start with isn't always the subscription level you end up needing. A thorough comparison ensures you get the features you need, at the subscription level that is right for you.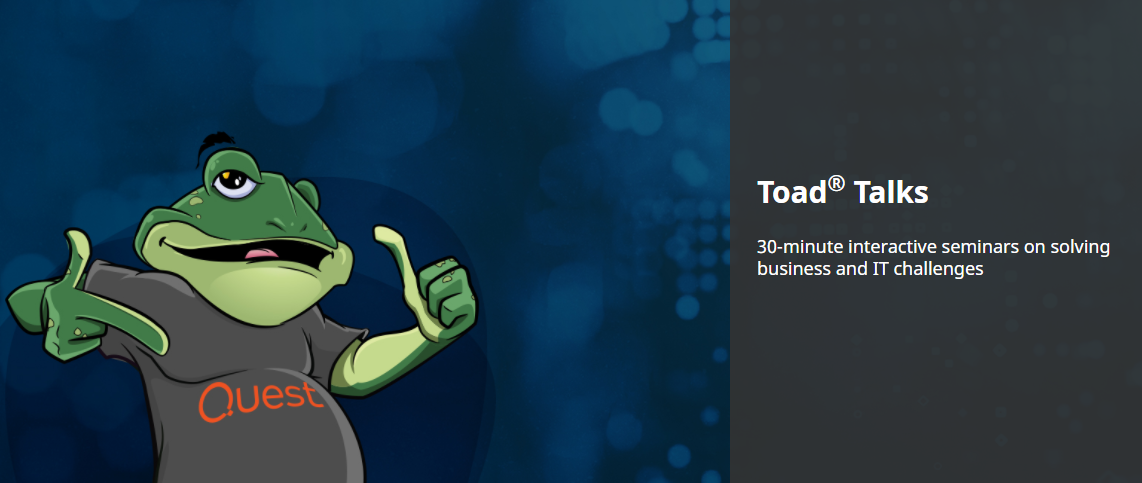 Designed to address common concerns and questions about the differences between Toad® for Oracle Base Edition and Toad® for Oracle Xpert subscriptions, this upcoming webcast will help you and your team evaluate which Toad for Oracle edition is best for your needs.
In this session, we'll discuss:
How to determine what your current needs are
How to project your future needs
Most used features
Time saving features
Risk-reducing features
Introducing dark mode
Enjoy reduced eye strain and a more comfortable navigation experience with the new Toad dark mode feature, our Valentine's Day gift to you.
Toad Talks webcast: A Comparison of Quest® Toad® for Oracle Base and Quest® Toad® for Oracle Xpert Editions
Date: January20, 2022
Time: 11 a.m. EST
Duration: 30 minutes
Interested in more Toad Talks free webinars?
Get more personalized tech advice from industry experts in the free data and database webinar series Toad Talks 2021.
Join product manager, Julie Hyman and product evangelist John Pocknell in interactive sessions to help you overcome your biggest IT obstacles. Live sessions begin at 11:00 a.m. EST or watch on-demand. These 30-minute discussions, are casual and include time for Q&A. Get guidance on how to navigate your specific tech challenges and reach your goals.
Julie and John will discuss:
Real-world challenges around cost savings and business value
IT transformation projects
Cloud optimization
Data operations
Data provisioning
Data security
Performance tuning
And more
This series will equip you with the strategies you need to simplify your work, reduce risk and gain more confidence with emerging technologies.
Reserve your place for upcoming sessions or watch on demand.
Help your colleagues and let them know about free database webinars. Share this blog with your friends now via the social media icons at the top of this post.