Compare ApexSQL to Redgate. Are you looking for a replacement for your Redgate software? How about more features for less cost? If so, Quest® ApexSQL can help.
Recently Quest learned of a company that was looking for a solution that could cut costs in their Development Life Cycle. The company sells their services online, so it's critical that their website is performing optimally. That means making sure their deployments are accurate, optimized and fast without introducing any risk. If they are not able to accomplish this, that translates to lost revenue and potentially lost customers.
Looking for a cost-effective alternative to Redgate
The company uses SQL Server and .NET as the backbone of their website. Needless to say, it is critical that this infrastructure runs at its best, all the time. At the time, they were looking for a replacement to their existing Redgate software due to a cost-savings initiative. Coincidentally, they had an upcoming renewal with Quest for other software.
Fortunately for this customer and Quest, timing is everything. Just a few months prior, Quest Software® welcomed ApexSQL into the Quest family of Information Management and its database management tools portfolio that helps organizations securely manage, monitor and move data. ApexSQL tools are built for the Microsoft SQL Server environment. With its proven SQL expertise and solutions, ApexSQL provides competitive SQL solutions for database auditing, recovery, change management, development and documentation.
As our renewal team became more familiar with the client's needs of streamlining their development life cycle they were able to scope the project and put together an ApexSQL tools solution. After looking at our ApexSQL tools, the customer initially requested licensing coverage for a team of database developers who were running DevOps using Octopus to deploy scripts with TeamCity.
Upon learning about their .NET development team and how they also touched the database, we introduced them to our DevOps-enabled solution that seamlessly integrates with a plug-in directly to Team City. The value of our solution within this organization was even higher and led them with a clear choice to go with our Quest solution. This is just one of many organizations that can benefit from using ApexSQL within their IT organization.
Comparison: ApexSQL vs. Redgate
What follows is a high level comparison of our ApexSQL tools with Redgate.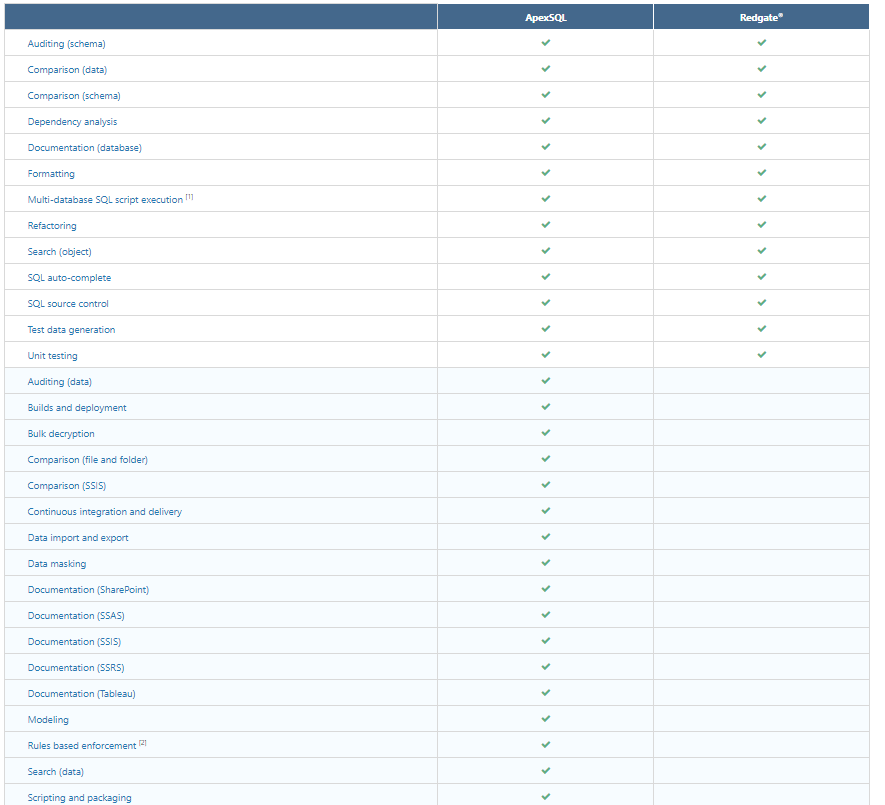 Click the image above to see ApexSQL vs Redgate® comparative articles.
What is ApexSQL?
ApexSQL is a collection of database management tools for MS SQL Server that enable you to perform and automate critical tasks for both the DBA and Developer enabling your IT organization to become more efficient.
As a SQL Server DBA, you can utilize many solutions including but not limited to Monitoring, Auditing (both for Compliance and Forensics), Backup/Recovery, Defragmentation, and Optimization of the SQL Server environment.
As a SQL Server Developer, you can utilize solutions including but not limited to integrating and automating critical deployments to streamline your Development pipeline.
The ApexSQL suite of tools is very comprehensive: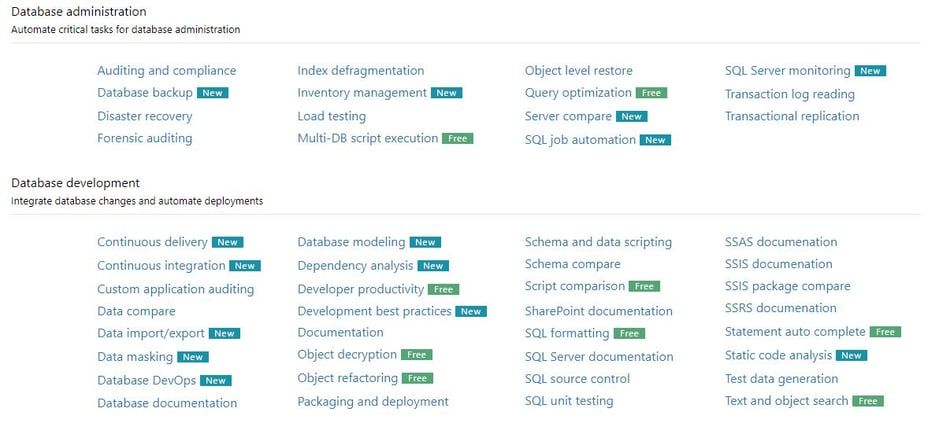 You can purchase these tools individually or as suites.
Create a customized pipeline to streamline development activities
Owning a suite allows you to create a customized pipeline comprised of these individual solutions that run sequentially via a dashboard. These pipelines can be run manually, scheduled or even upon committing a change to source control. This will streamline all your development activities enabling you to become more agile. You can integrate this into your CI/CD process with native plug-ins to Bamboo, Jenkins, Team City and Azure DevOps. You can even call these processes using PowerShell.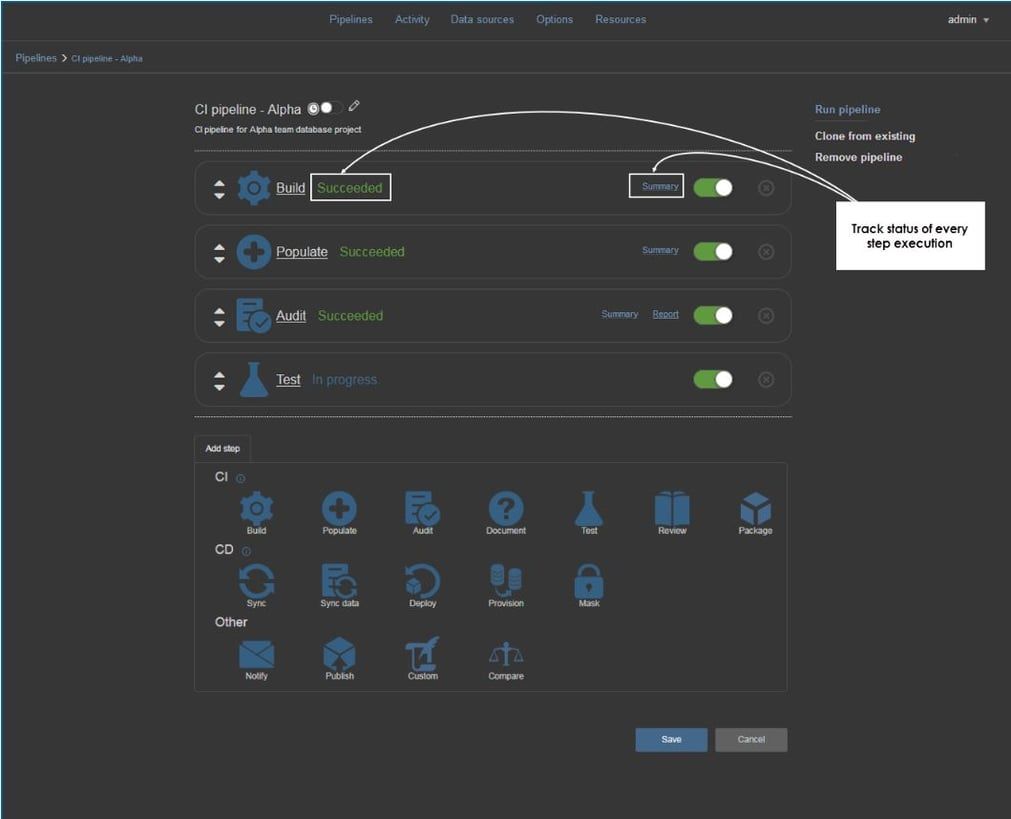 If you have a Microsoft SQL Server environment to manage, you should definitely try Quest|ApexSQL!
Learn more about ApexSQL
Are you facing huge shifts in your job responsibilities because of increased needs to speed development, tighter data privacy regulations or more demands of administrative or development tasks? If you're a DBA being asked to manage complex database and protecting sensitive data or if you're a developer trying to produce faster without error, ApexSQL database management tools can help.
ApexSQL is a comprehensive tool set that streamlines and automates SQL Server database management and development processes. With its expansive portfolio of products, ApexSQL enables SQL Server DBAs and developers to dramatically increase their efficiency without sacrificing the quality of their work or the safety of the databases.
Help your colleagues
If you think your colleagues would benefit from this blog, share it now on social media with the buttons located at the top of this blog post. Thanks!