Toad World was originally launched back in 2006 as a free, exclusive resource for all things Toad and that's as true to today as it was back then. It has become a valuable complement to the many Toad users out there that want to broaden their knowledge and share their experiences with Toad.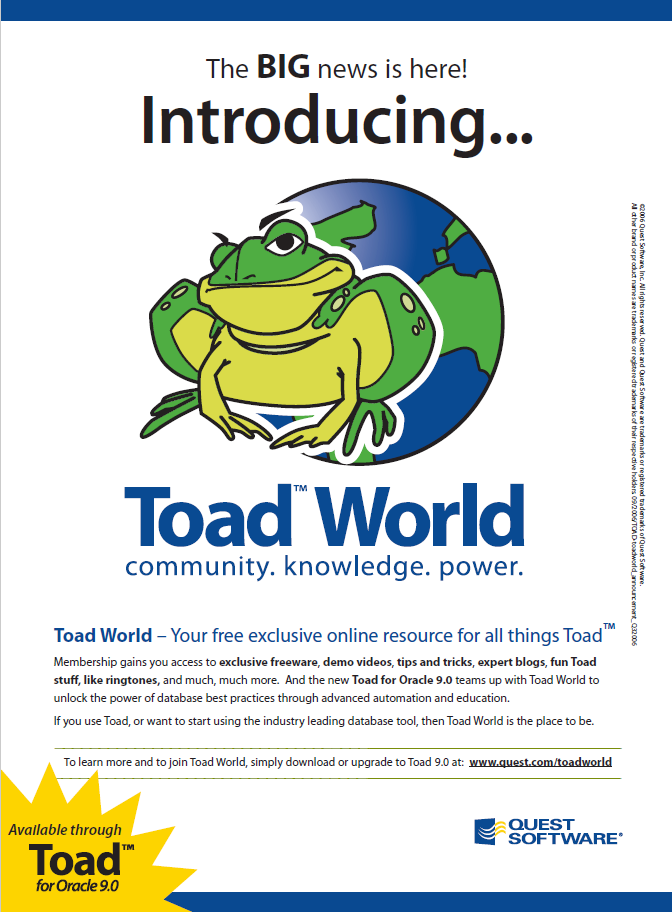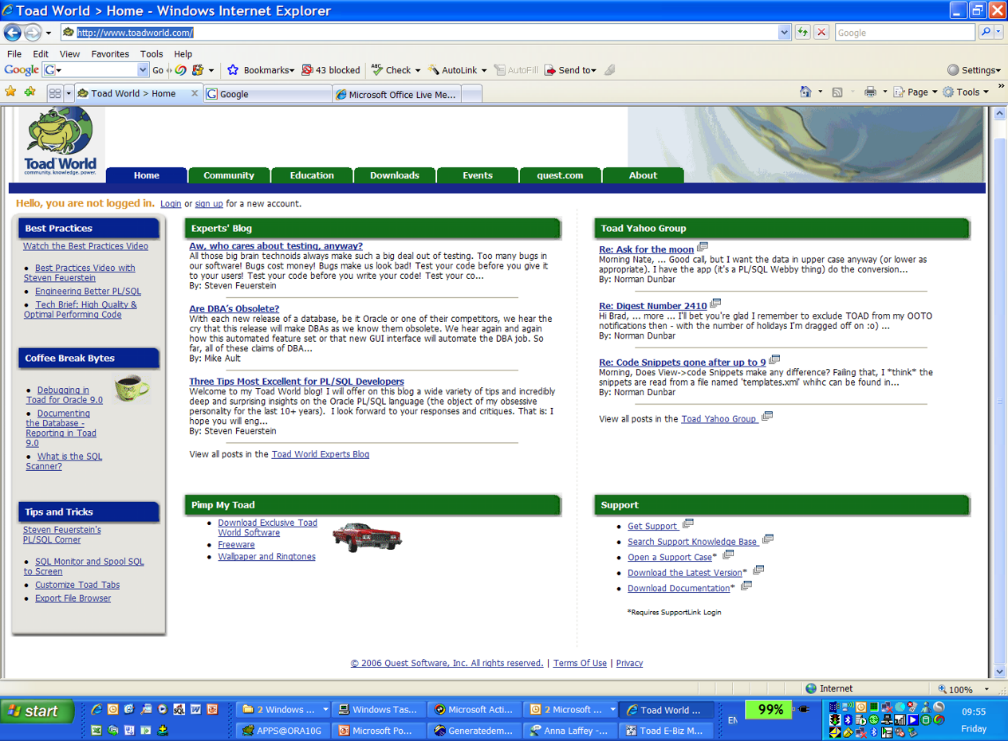 Original Toad World launch in 2006
Today, Toad World continues to be an extremely popular community with millions of unique visitors per year who come to learn about a new technology or product including content from our independent Maven experts, have questions answered by experts including Quest engineers, download Toad products to evaluate, view the many hundreds of videos to learn more and access all the other exciting content.
As will all communities, Toad World continues to adapt and improve to exceed the expectations of its existing visitor base as well as to attract new visitors, and that means refreshing content and improving the user experience.
The new Toad World, which is coming later this month, will provide a number of really cool new features that will enhance the way visitors interact with it, including:
Look and feel: A more modern web site design, with some significant enhancements to capabilities.
Less clicking: Content such as blogs and videos will be easier to find.
Powerful filtering: You will be able to filter in multiple ways, including by product (e.g. Toad for Oracle), by topic (e.g. DevOps) or by database platform (e.g. SQL Server).
Tagging: Tags will allow a fast way to find related content without wasted navigation.
Real conversations – not web pages: Forum conversations will be much more natural by constantly feeding conversation threads as you scroll down. This saves having to manually hit the Next Page button.
Dynamic notifications: automatically notifies you when someone quotes your posts.
Mobile support: much better support for the use of Toad World on a smartphone, tablet or other high resolution touch devices.
We have conducted extensive testing of the new Toad World with a number of regular users to gauge feedback in order maximise its success.
We will be migrating a lot of the content such as blogs, videos and other media but some of the older content won't be migrated, simply because it's out of date; such is the pace at which things change.
Some of our other content will still be available, but in a different form:
Toad Idea Ponds – although there is no planned direct replacement, but we are looking at other ways of gathering and managing ideas, both internally and from our customers, that will be more useful to us.
Wiki articles – selected wiki articles will get converted into blog articles.
The free Toad web-based training courses will be hosted on our Technical Support portal (more information to follow).
Unfortunately, the Toad Academic Program is to be terminated, but we will look to offer a similar service in the future.
Implementation of the new Toad World platform is already underway, and there will inevitably be some disruption during that time, which we will endeavor to keep to a minimum.
This will include the temporary locking of Forums from new posts until after migration is complete. If you have an urgent problem, please send an e-mail to admin@toadworld.com.
In the meantime, please continue to maximize your use of Toad World, and we are confident that you will love the new version when it becomes available soon.